Caracallatherme and Friedrichsbad in Baden Baden
The name of the city is like an invitation: Baden-Baden. The bathing culture was founded by the Romans. Around the year 70 of our era, army units marched through the Oostal. Their mission: to build a spa for the legion's base in Strasbourg. They found what they were looking for at a small elevation in what is now the city – the Rettig. They simply called the place "Aquae", as they did with all thermal springs.
At first, legionaries cured here, then the Gauls arrived and over the centuries a spa high culture developed. Impressive traces from this time can still be found below the Roman Square. During a walk through the bathing facilities, which have been fantastically preserved in their original state, past overman-high Roman walls, you will experience more than 2000 years of history up close, including a computer animation under:
Caracallatherme
For those who want to experience the fascination – in the proverbial sense – up close, a visit to the Caracallatherme is recommended.
The most important info:
– Rock grotto with hot and cold water
– Spacious marble pools with hot thermal water outside and inside
– Natural brine inhalation room
– Aroma steam bath and sauna area with vitality, aroma, forest, meditation or fire sauna.
– Highlight: the Spectaculum, here the infusions are accompanied by light and sound experiences
– Solariums and wellness lounge
– Opening hours: daily from 08:00 – 22:00
Friedrichsbad
The Friedrichsbad – only a few steps away – is actually a must for every guest of the spa town. Whether exclusive thermal water, bathing pleasure in separate private baths, wellness, various massages, treatments or hot air baths – after a visit to the Friedrichsbad you feel like reborn or at least retreaded…
What you should have experienced:
– 17 bathing stations with regenerating thermal water and various massages
– Private baths in a dreamlike ambience with drinks and optional massages or peelings
– Wellness for two: with luxury bath and twin massage
– Massages from all over the world: from Shiatsu to Lomi-Lomi and Huna-Mana
– Beauty treatments from head to toe
– Opening hours: daily from 09:00 to 22:00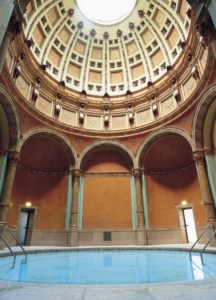 By the way:
One person who also felt this was Johann Wolfgang von Goethe. He also wrote the poem above the entrance to the bath:
"Miraculously the wave flows – flows the hot steam of the spring – courage becomes freer – blood becomes newer – hail the water – hail the fire."

Johann Wolfgang von Goethe
PHOTOCREDIT: Carasana Bäderbetriebe GmbH