The southwest is one of the most beautiful regions in Germany. And if you know how, you can get from A to B quickly, comfortably and easily. But even if you travel by plane, there are numerous attractive options.
A brief presentation of conveniently located airports in southern Germany, which also have private terminals – General Aviation Terminal (GAT):
Baden-Airpark (FKB)
Originally a Canadian military airfield, Baden Airpark began operations in 1997. Since then, it has been growing constantly. In 2017, around 1.2 million passengers used the small but beautiful airport.
With its strategically favorable location, Baden-Airpark is a port of call for vacationers from Baden-Württemberg, Rhineland-Palatinate and Alsace, as well as for business travelers flying to Berlin, for example, or to other European metropolises such as Barcelona, Rome or Istanbul. Nine airlines use Baden Airpark, including Ryanair, Eurowings, TUIfly and Turkish Airlines.
Located just under 17 kilometers from Baden-Baden's city center and about 13 kilometers from the train station, Baden-Airpark is very easy to reach by car via the highway or from the train station by feeder.
Frankfurt (FRA)
Frankfurt Airport – also known as "FRAport" – is one of the 15 largest airports in the world with almost 60 million passengers per year, making it one of the most important traffic centers in Europe. 99 airlines take passengers to 311 destinations in 97 countries. The choice of departure times is huge.
Frankfurt is also the base of Deutsche Lufthansa. In Pier A near Gate A13 and in Pier B between Gates B22 and B24 (both in Terminal 1), the airline offers its guests relaxation in two first-class lounges.
From Baden-Baden, it takes a good hour and a half by car via the A5 to Frankfurt Airport.
Stuttgart (STR)
Those from the south who do not fly from Frankfurt usually opt for Stuttgart. This is also because the lower passenger volume means that bargains are more likely to be found. By car, you can make it from Baden-Baden via the A5 and A8 to Stuttgart Airport in just over an hour. Despite relatively short distance, it is much more costly by train. Since the airport is located almost 15 kilometers from the city center and travelers have to change trains at the main train station, you should allow at least two hours for the journey.
Otherwise, Stuttgart Airport is a real alternative. Because it is much smaller, the distances are also much shorter. There is also less hustle and bustle, which can be worth its weight in gold during the stress of travel. Around eleven million passengers fly through Stuttgart every year. Around 55 airlines fly to more than 100 destinations.
Strasbourg (SXB)
Although also very close, with a journey time of about one hour, the Aéroport Strasbourg is a real insider tip. This may be because Strasbourg is across the Rhine in France. Nevertheless, it is definitely worth considering the airport located in the municipality of Entzheim, 15 kilometers southwest of Strasbourg city center, as an alternative. And if you have some time left over, you can take a look at the city at the same time – because it is a real highlight.
Basel/ Mulhouse (BSL)
With a passenger volume of almost eight million, EuroAirport Basel-Mulhouse-Freiburg is the best developed airport on the Upper Rhine. Depending on the season, the route network includes scheduled services to around 70 to 100 airports in around 30 countries. Many destinations are served directly daily, others several times a week. Every day, that's up to 120 flights from 25 different airlines. The market leaders are easyJet and Wizz Air, Lufthansa, TUIfly, Air France and British Airways. The presence of the world's largest aviation alliances, Star Alliance, SkyTeam and oneworld, means that passengers at EuroAirport are ideally connected to all central intercontinental hubs such as Amsterdam, Frankfurt, London-Heathrow, Munich, Paris and Vienna.
The offer is to be further expanded in the coming years, for example with regard to connections to Eastern Europe. The offer in the area of classic business destinations and vacation flights is also to be expanded. In addition, a direct rail link for the EuroAirport is to be built in the medium term. Currently, you still have to take the detour via Badischer Bahnhof. This takes about two hours from Baden-Baden, the same time that you should allow by car due to the usually very heavy traffic on the A5 towards Switzerland.
Lake Constance Airport Friedrichshafen (FDH)
Beautifully situated in the middle of the four-country region of Germany-Austria-Switzerland-Lichtenstein against a dramatic Alpine backdrop, Lake Constance Airport Friedrichshafen is the southernmost commercial airport in Germany. Around 60,000 passengers use the airport every year. Thanks to numerous direct and connecting flights operated by major airlines such as Lufthansa, Germania and Turkish Airlines, it is possible to reach destinations all over the world from Friedrichshafen. When traveling from Baden-Baden by car, you should expect at least three to four hours. From Basel, it takes just 2 hours to reach the Lake Constance airport.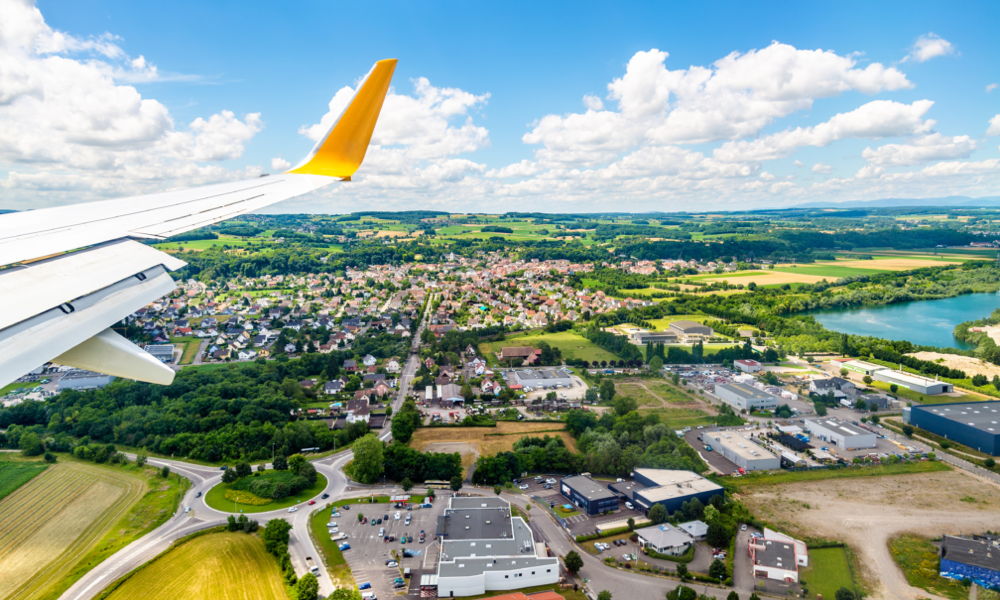 Individual service from a single source
ELS Executive Limousine Service customers benefit from the wide range of services offered by our exclusive group of companies Your
Travel agency
For individual business travel, professional travel planning and maritime travel management.

Your
Charter specialist
For individual private and business trips in your own jet.

Your security service provider
With a focus on Close Protection, Investigation, High Risk Management, Maritime Security and IT Security.

Individual
Limousine service
With exclusive chauffeur and shuttle service from the experienced professional.